One Size Fits All – Doesn't It?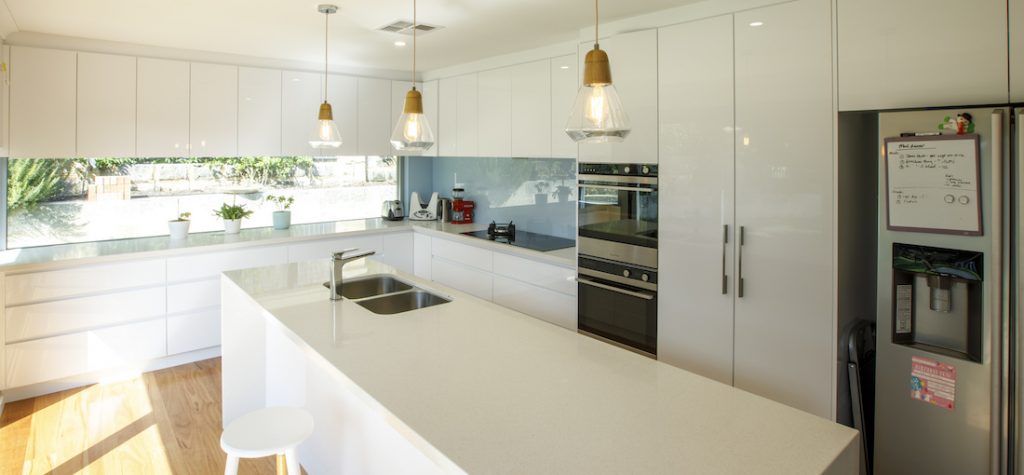 Some homes need more than just a fresh coat of paint to bring them alive and it can be difficult to gauge what to do and where your budget will go.
A one-size-fits-all approach is impossible if you want an outcome that truly meets your individual needs, so instead we offer a number of makeover and renovation packages which can be tailored to your needs. These are often a good renovation starting point, and it's just another approach that we think makes us the best renovation architects and home renovation builders in Perth.
Renovation Package
This includes new room layouts/plans, full "demolition" of the existing room(s) and complete refit.
That means we'll make good existing walls, ceilings, floors, add new waterproofing where necessary and screed floors before completely refitting with quality fixtures and fittings, tiles etc.
In some instances, the package will also accommodate moving fixtures to new locations within the room, though when sanitary-ware is moved, council approvals will be required.
Make-Over Package
These are ideal for where the general location of fixtures and overall "sub-structure" is sound but the whole room needs a fresh look and feel.
This is still a fairly extensive package and includes detailed room layout plans, and stripping tiles and flooring. It will also include some new fixtures and upgrades to others.
Investors / Rental Package
For those who simply want to give a general "lift" to a property or specific rooms before renting or selling, this package offers an economical option.
We work with the remit of cosmetic enhancement only (unless there's a specific need to rectify more significant defects) for minimum expenditure and the shortest possible timeframe.
For more information on how we can work with you, please send us an email or give us a call.
Packages
For the purpose of pricing, and as a guide, we've based quantities on common configurations and average space allowances with a range of quality fixtures and fittings for your Perth home renovations or extensions.
Please contact us for more information on the specific allowances, areas and specification schedule.
Complete Renovation
Full renovation of a single and two-storey home includes:
New custom designed kitchen with 40mm Caesar stone bench-tops and soft-close fixings
New appliances, sink and taps
New floor tiling and splashbacks to kitchen
2 x new bathrooms / ensuite including custom designed vanities with 40mm Caesar stone bench-tops, china sanitary-ware, mirrors and tiling to floors and 1200 high walls plus to shower.
New 10mm semi-frameless glass shower screen
New laundry including tiling to floors, skirting and splashback
New timber flooring
New carpets
New feature lighting
Painting internally
Single Storey from - $150,000 inc GST
Double Storey from - $230,000 inc GST
Make-Over
Full makeover of a single and two-storey home includes:
New 20mm Caesar stone, kitchen bench-tops and drawer/cupboard faces and handles – new soft-close fixings throughout
New tiled floor and splashback
Similar makeover to the bathroom, ensuite and laundry
Painting internally
Single Storey from - $100,000 inc GST
Double Storey from - $180,000 inc GST
Full Renovation
Full kitchen renovation of kitchen includes:
New custom designed kitchen with 40mm Caesar stone bench-tops and soft-close fixings
New appliances, sink and taps
New floor tiling and splashbacks
Upgraded lighting
Painting
From - $70,000 inc GST
Make-Over
Full kitchen makeover includes:
New kitchen 20mm Caesar stone bench-tops and drawer/cupboard faces and handles with soft-close fixings
New tiled floor and splashback
Painting
From - $40,000 inc GST
Full Renovation
Full bathroom renovation includes:
New custom designed vanity and 40mm Caesar stone bench-tops and soft-close fixings
New china sanitary-ware, sink and taps
New floor tiling and wall tiling to 1200 high plus to shower area and splashbacks
New 10mm semi-frameless glass shower screen
Upgraded lighting
Painting
From - $30,000 inc GST
Make-Over
Full bathroom makeover includes:
New 20mm Caesar stone vanity top and fronts and new soft-close fixings
New china sanitary-ware, sink and taps
New floor tiling and wall tiling to 1200 high plus to shower area and splashbacks
New 10mm semi-frameless glass shower screen
Painting
From - $25,000 inc GST
Full Renovation
Full renovation of laundry includes:
New custom designed units with 40mm Caesar stone bench-tops
New sink and taps
New floor and skirting tiling and splashbacks
Upgraded lighting
Painting
From - $15,000 inc GST
Make-Over
Full makeover laundry includes:
New 20mm Caesar stone bench-top and fronts
New sink and taps
New floor tiling and splashbacks
Painting
From - $10,000 inc GST
External Make-Over
Full makeover of an 'average' single –storey home. Based on generic areas and scopes of work includes:
Roof professionally cleaned or sprayed
Painting
External lighting package
New fencing
New paving or exposed aggregate pathway and drive
New garage door
From - $75,000 inc GST